Stepper Lubrication Troubleshooting Guide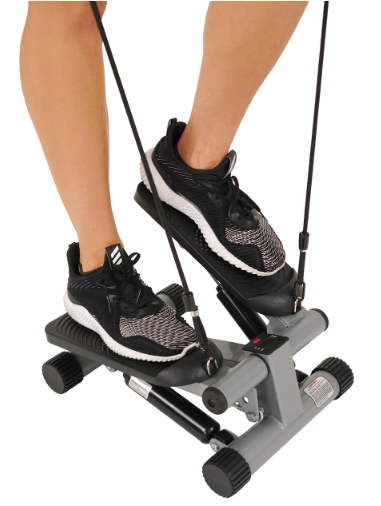 All in-home gym equipment needs to be maintained on a regular basis for it to perform optimally. Stiff movement and unwanted grinding noises are indicators that parts need to be lubricated, tightened, or loosened. In this guide we will identify the essential parts and locations to check on your Sunny Health & Fitness stepper machine. To complete this guide, you will need a silicone-based lubricant and a hex key. For additional assistance, email Sunny Health and Fitness at support@sunnyhealthfitness.com.
STEP 1: Turn the stepper upright to expose its bottom components (see Figure 1).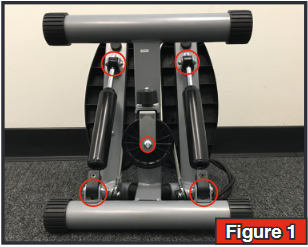 STEP 2: Check if all of the screws in the U-shaped irons are secure (see Figure 2). You'll find screws in the two U-shaped irons on the base of the stepper and two additional screws in the U-shaped irons on the bottom of the foot pedals. Use a hex key to ensure that the screws are secure.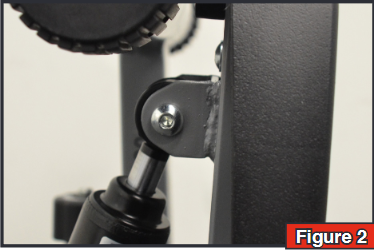 STEP 3: Check the screws that are located at the front side of the stepping machine. Remove the screws with a hex key and twist the barrel cap to remove it from the stepper. Spray the exposed connecting joint with a silicon-based lubricant.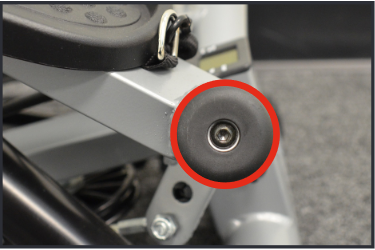 STEP 4: Loosen the pulley cables on the bottom of the stepper by turning the knob counter-clockwise. Spray the inner hole of the pulley and the slot around the pulley with a silicon-based lubricant. Tighten the pulley after applying the lubrication, and remove any excess lubrication from the stepper.